SEPTEMBER 2020
If we reflect back in history to 1944, what do we remember?
Many of us weren't around at this time, but a google search of the year tells us the United States was fighting in WWII, the Smokey the Bear mascot was created and gasoline was 21 cents a gallon. Another piece of history from 1944 was the designation of National Farm Safety and Health Week (NFSHW).
Fall harvest time can be one of the busiest and most dangerous seasons of the year for the agriculture industry. For this reason, the third week of September has been recognized as National Farm Safety and Health Week. This year the dates are September 20 – 26, 2020 and there is a daily theme for safety each day.
---
AgriSafe Webinars
Check out the daily webinars provided by AgriSafe during National Farm Safety and Health Week.
---
UMASH Online Expo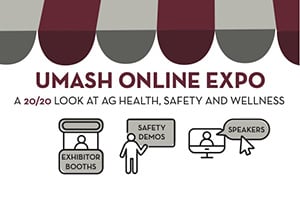 UMASH is one of many agricultural organizations recognizing this week as our mission is to improve the health and safety of agricultural workers and their families in the Upper Midwest region. Our recent UMASH Expo: A 20/20 Look at Ag Health Safety and Wellness was a new online event to bring resources, speakers and demonstrations in the time of COVID-19. NFSHW offers another opportunity to get this information into the hands of farmers, families and workers to help them stay safe during fall harvest and throughout the year..
Visit the UMASH Expo website to access links to health and safety talks, exhibitors booths and video demonstrations. There are a number of topics with up to date information including grain bins, respiratory safety, zoonotic disease risk, ATV's and more.
It has been 76 years since the first National Farm Safety and Health week of 1944 and the risks are still real. Take some time before the rush of harvest begins to refresh your skills and keep yourself and others safe all year.
---
Farm to Fork
Farm to Fork is helping to spread the health and safety messages from the UMASH Expo during National Farm Safety and Health Week. Farm to Fork is a nationally-syndicated radio program dedicated to the agriculture and food sectors and to the people who are connected with them
Audio clips featuring speakers from the Expo will be aired during National Farm Safety and Health Week, September 21 – 25. So if you missed the Expo, tune in and listen for these short, 2-minute topics! You can also download the mp3 audio files.
Monday, September 21:
Slow Down and Stay Safe, Commissioner Thom Petersen, MInnesota Department of Agriculture
Tuesday, September 22:
Stress in Agriculture, Emily Krekelberg, University of Minnesota Extension
Wednesday, September 23:
Opioid Addiction, Ruth Meirick. Minnesota Farm Bureau
Thursday, September 24:
Side by Sides, Dr. Charles Jennissen, MD, University of Iowa
Friday, September 25:
Farm Safety in the Media, Scott Heiberger, National Farm Medicine Center