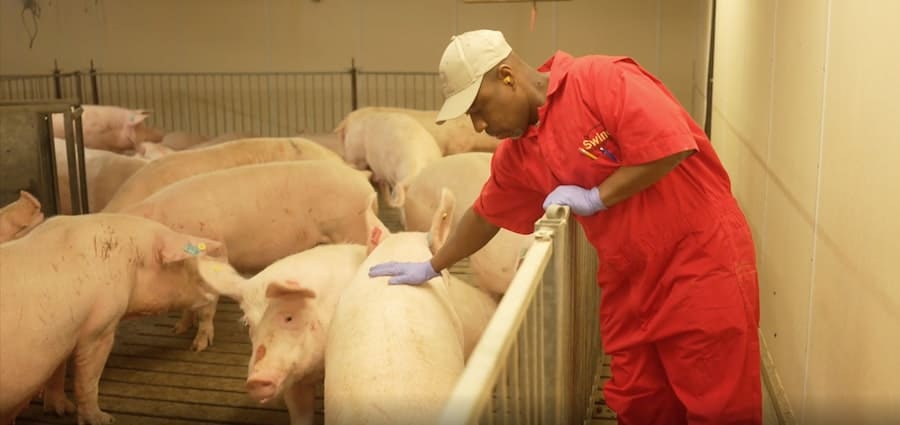 Project Description
Dates: 2022-2027

The
human microbiome
plays an important role in human health and disease, and many factors shape each individual's microbiome. Workplace environments and animal exposures have been shown to influence the microbiomes of workers. For example, people who work with dairy cows and pigs have been shown to have different oral and nasal microbiomes than non-livestock workers. However, it is unclear how these differences occur, and whether they are beneficial, harmful, or neutral in the short- and long-term.
The microbiome is the community of microorganisms
(e.g., fungi, bacteria, and viruses)
that exist in an environment, such as on a specific body part or in a workplace.
This project aims to better understand how the conditions within swine farms influence the microbiome of swine workers. Researchers will test the hypothesis that different on-farm microbiomes impact worker microbiomes differentially based on the worker's assigned job tasks. The findings of this study will support the further development of evidence-based, targeted interventions to protect and improve the health of swine workers.
This project's specific aims include:
Quantify the contribution of various on-farm microbiomes (e.g., swine, touch surfaces, air) in shaping the microbiome of swine workers assigned different job tasks.
Measure the impact of swine contact and common biosecurity practices on the skin microbiome of livestock workers. 
Develop a panel of important metagenomic signatures associated with the swine workplace to be used in future worker health studies.
---
Why is this important?
An individual's microbiome is an important part of their lifetime health. Understanding swine worker microbiomes and how they are influenced will help to develop effective interventions to prevent illness and death among these workers.
U.S. swine workers are unique within the livestock worker population because their job tasks often involve intensive one-on-one animal handling and work in biosecure and enclosed facilities.