AUGUST 2023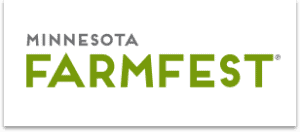 On August 1-3, for the fifth year, we collaborated with our partners to host the UMASH Wellness Pavilion at the 2023 Minnesota Farmfest, the largest farm show in Minnesota. Hosted on the Gilfillan Estate in Redwood County, Minnesota, this event attracts thousands of farmers, workers, families, state and local officials, and community members from across the region. The Wellness Pavilion offers hands-on activities, blood pressure screenings, and live ag safety demonstrations to encourage learning and conversation about Living Healthy, Farming Safely.
Sunscreen and other Safety Swag…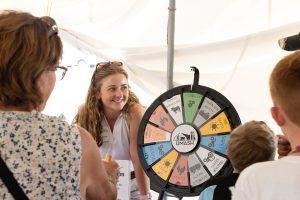 UMASH was joined by over 20 other national, regional, and local organizations in connecting with attendees on farm and occupational safety, mental health, healthy living, roadway safety, and many other topics.
Attendees of all ages visited UMASH outreach team members Megan Schossow, Devon Charlier, and Erica Shuck to put their farm safety knowledge to the test, spinning the UMASH Farm Safety Wheel for a chance to win sunscreen – a welcome offering for attendees out in the sun throughout the show.
Wellness Pavilion exhibitors distributed more than 2,700 giveaways to Farmfest attendees!
In collaboration with sponsors, exhibit partners, and experts, UMASH presented ag safety and rescue demonstrations about ATV/UTV safety, lawn mower safety, Power Takeoff (PTO) safety, and grain bin safety. CentraCare also offered free blood pressure screenings in the Wellness Pavilion, as people with high blood pressure rarely have symptoms, but once diagnosed, it is treatable.

Thanks to you all, we successfully shared health and safety resources, demos, and information with the 30,000 annual attendees of MN Farmfest.
ATV/UTV & Lawn mower safety
Progressive Agriculture Safety Days and University of Minnesota Extension
Exhibit partner: Central States Center for Agricultural Safety and Health
Farm Rescue + Adaptive Equipment
Farm Rescue
Grain Engulfment Simulator
National Education Center for Agricultural Safety
Exhibit partner: Respiratory Protection with AgriSafe
Sponsor: MN Department of Agriculture
Grain & Confined Space Safety
Minnesota State Southern Agricultural Center of Excellence
Exhibit partner: Gas Monitors with Great Plains Center for Agricultural Health
Sponsor: Minnesota State Southern Agricultural Center of Excellence
Grain Weevil / Grain Bin Safety
Nationwide Agribusiness
Power Takeoff (PTO)
University of Minnesota Extension and Minnesota State Southern Agricultural Center of Excellence
Farm Rescue
Progressive Agriculture Safety Days
Central States Center for Agricultural Safety and Health (CS CASH)
Great Plains Center for Agricultural Health
AgriSafe Network
Minnesota State Southern Agricultural Center of Excellence
Minnesota Veteran Farmer Coalition
Workplace Safety Consultation
Minnesota Operation Lifesaver
NAMI Minnesota
Pipeline Ag Safety Alliance
Minnesota Association of County Mental Health Programs
UMN Extension - Farm Health and Safety
MN Poison Control Center (HCMC)
American Foundation for Suicide Prevention, Minnesota Chapter
Stop the Bleed / Southwest Regional Trauma Advisory Council
Nationwide Agribusiness
Grain Weevil
10,000 Families Study
Upper Midwest Agricultural Safety and Health Center (UMASH)