MARCH 2022
It's here… farm show season has begun.  UMASH was part of the Farm City Hub Club farm show in New Ulm, MN. With the show's focus on farm safety, it was a great opportunity to unfold the tablecloth, pull up the banners, and interact with show-goers on the importance of preventing illness and injury on the farm.
Focus on Farm Safety Checks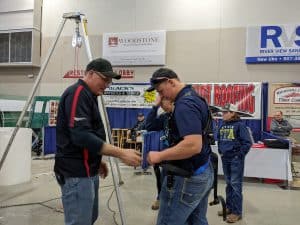 Carol Peterson attended the two-day show and connected with many people. With a focus on grain bin safety, she showcased the Farm Safety Check as a useful tool for farmers and families.  The Farm Safety Check provides topic-specific safety recommendations and tips to improve farm safety by identifying and fixing hazards before they cause harm. Our partner, Jim Zwaschka from South Central College, was on hand to provide safety demonstrations on grain bin safety, PTO safety, and more.
UMASH is looking forward to a full season of farm shows. It is good to be back.