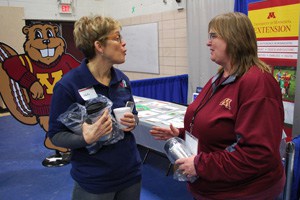 The Carver County Dairy Expo was held February 18, 2019 in Norwood Young America. Chela Vazquez and Carol Peterson from UMASH attended and exhibited UMASH resources on topics relevant to dairy farmers including: Positive Animal Handling; Needlestick Prevention; and Promoting Safety and Worker Health for Immigrant Dairy Workers training program. We also shared resources on signs and symptoms of stress as this has been and continues to be a hard economic time for farmers.
This event is sponsored by Carver County Extension and the Carver County Dairy Core Team is an excellent opportunity to work with our Extension colleagues with dairy expertise. This was our second year at the Expo and we met with farmers, farm families and many other organizations who care about the dairy industry and the people. UMASH was able to give advice on specific resources and follow up with requests.
Thanks to Carver County for inviting us to be part of another successful Dairy Expo.