Every year, Cottonwood County 4H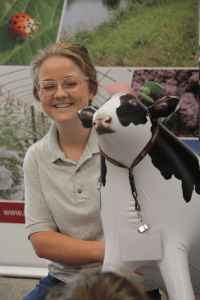 coordinators host Fall Field Days at the University of Minnesota Southwest Research and Outreach Center (SWROC). Nearly 600 area fourth graders took a field trip to learn about the environment, science, and health and safety. UMASH joined other organizations, including the Science Museum of Minnesota, Farm Bureau, and more, in this hands-on trip.
This year, UMASH participated at the September 10-12 event. Megan Schossow focused on animal safety with the students. With the help of our new teaching tool, an inflatable cow named Opal, kids learned about the cow's senses, how to approach her, the zones around her, zoonotic diseases and more. Twelve school districts participated thanks to the work of Cottonwood County 4-H Coordinator Crystal Reith.