November 2021
National Farm Safety and Health Week 2021 took place September 19-25, with the theme Farm Safety Yields Real Results. UMASH created and coordinated the sharing of a social media toolkit to promote cross-center collaboration during the 2021 campaign.
State of Minnesota Proclamation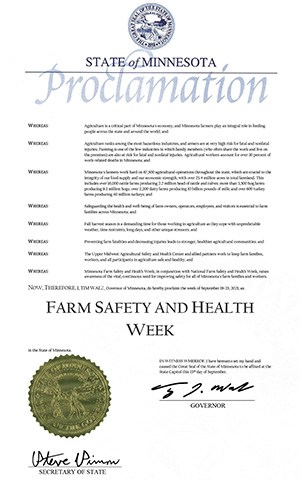 This proclamation affirms that:
Agriculture is a critical part of Minnesota's economy, and Minnesota farmers play an integral role in feeding people across the state and around the world;
Agriculture ranks among the most hazardous industries, and farmers are at very high risk for fatal and nonfatal injuries.  Agricultural workers account for over 30 percent of work-related deaths in Minnesota;
Minnesota's farmers work hard on 67,500 agricultural operations throughout the state, which are crucial to the integrity of our food supply and our economic strength, with over 25.4 million acres in total farmland;
Safeguarding the health and well-being of farm owners, operators, employees, and visitors is essential to farm families across Minnesota;
Minnesota Farm Safety and Health Week, in conjunction with National Farm Safety and Health Week, raises awareness of the vital, continuous need for improving safety for all of Minnesota's farm families and workers.
RESOURCES
NFSHW Promotional Materials
UMASH Ag Safety Resources
NIOSH Agricultural Safety and Health Centers
The Centers for Agricultural Disease and Injury Research, Education, and Prevention represent a major NIOSH effort to protect the health and safety of agricultural workers and their families. The Centers were established by cooperative agreement to conduct research, education, and prevention projects to address the nation's pressing agricultural health and safety problems. Geographically, the Centers are distributed throughout the nation to be responsive to the agricultural health and safety issues unique to the different regions.
US Ag Centers YouTube Channel
The US Agricultural Centers funded by the National Institute for Occupational Safety and Health offer online safety videos through a special YouTube channel. These safety videos are designed for producers, Extension agents, first responders and farm families. The videos can be especially relevant during harvest season, as farmers are putting in long hours under the stress of weather delays and equipment breakdowns.
National Education Center for Agricultural Safety (NECAS)
The National Education Center for Agricultural Safety (NECAS) is dedicated to preventing illnesses, injuries, and deaths among farmers and ranchers, agricultural and horticultural workers, their families, and their employees. NECAS is a partnership with the National Safety Council and Northeast Iowa Community College (NICC) Peosta campus.
Links and Additional Resources