JULY 2018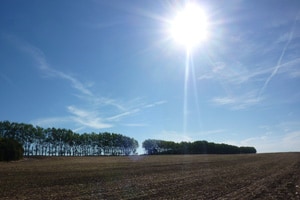 Those working in agriculture are at a higher risk for skin cancer because of time spent in the sun. While the warmth of the sun feels good on the skin, it's important to take multiple steps to protect yourself from overexposure and reduce sun-related risks.
Sun protection includes covering your body with clothing, wearing a hat with a full-brim, adequate sunscreen coverage, and sunglasses.
SAFETY CHECKLIST
Are you wearing long-sleeved shirts and pants when exposed to the sun?
Are your hats wide-brimmed and brimmed all the way around the head, like a bucket hat?
Have you checked your medications for increased sun risks?
Are you using a broad-spectrum SPF 30-50 sunscreen lotion?
Are you reapplying sunscreen every two hours, or more frequently with heavy sweating?
Are you wearing sunglasses to protect the eyes?
Are checking your skin periodically and talking to your doctor about any changes you see?
Are employees trained how to protect themselves from the sun?
Are you scheduling work that happens in direct sunlight to avoid peak hours?
You and/or your employee(s) can download and print a pdf checklist to complete safety checks on your farm.  Keep the completed forms for follow-up, future reference and inspections.
DOWNLOAD PDF CHECKLIST
---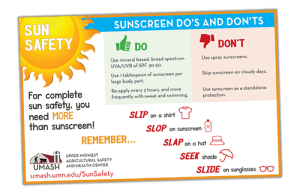 SUN SAFETY FLIER
Learn about the sunscreen do's and don'ts and the proper procedures to protect yourself.
---
Disclaimer: The facts and information listed above are suggestions for your safety, but are in no way a comprehensive and exhaustive list of all actions needed to ensure your safety.
---