UPDATED JUNE 2023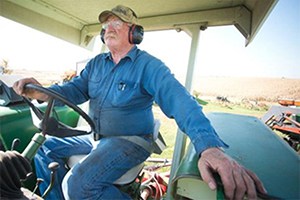 Can you hear me now?
Living and working on a farm exposes adults and children to a wide range of loud, repetitive and potentially harmful noises, such as combines, dryers, augers, and other equipment. Exposure to hazardous noise levels without proper protection can lead to permanent and irreversible hearing loss. This presents a significant safety risk, but also can negatively affect quality of life, communication and social interaction, and mental health.
Fortunately, there are safety precautions you can take to reduce your risk of hearing loss. Use this Farm Safety Check and resources from our farm safety partners to protect the hearing of everyone living and working on the farm.
SAFETY CHECKLIST
Are you using job-appropriate hearing protection? Match protection to decibel levels of exposure.

Are you using hearing protection sized/fitted for your body?

Are you inserting foam protection with clean hands?

Are you inserting/placing PPE on correctly? Some foam plugs should be rolled.

Are you updating used/old PPE that is no longer effective?

Are you cleaning reusable PPE, like ear muffs?

Are you performing routine maintenance on equipment to reduce excess noise? (such as rattling/clanging)

Are you limiting exposure to hazardous levels of noise?

Are high noise areas marked with warnings or signage?

Are employees trained on PPE use?

Are you storing PPE near machinery or areas where it should be worn?

Have you had your hearing tested?
You and/or your employee(s) can download and print a pdf checklist to complete safety checks on your farm.  Keep the completed forms for follow-up, future reference and inspections.
DOWNLOAD PDF CHECKLIST
Disclaimer: The facts and information listed above are suggestions for your safety, but are in no way a comprehensive and exhaustive list of all actions needed to ensure your safety.
---