SEPTEMBER 2020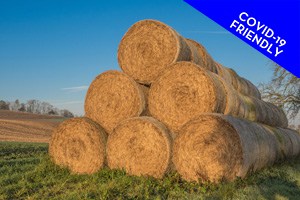 Warm weather means hay and silage season for many farms. Moving parts, dusts, long days, and roadway hazards are a few of the ways haying and silage harvest can become dangerous.
Prevent a serious illness, injury, or delay that could result from skipping on safety by checking in with the harvest team this month.
SAFETY CHECKLIST
Are equipment and machinery maintained and functioning properly? For example: tractor, baler, chopper, haybine, hay rake, semi or chopper box, unloaders.
Are guards, shields, and safety stickers in place and in good condition?
Is maintenance done only when equipment is powered down? Consider a lock-out-tag-out system.
Are equipment operators aware of any steep inclines, ravines, or obstacles in the field that are hazardous?
Are children kept away from this work site and off equipment?
Are workers wearing slim-fit clothes, no-slip work shoes, a safety vest, and cloth face masks? Even if a worker is alone when operating machinery, COVID-19 particles can linger in the cab.
Does roadway equipment have proper lighting and slow-moving signage?
Are you keeping three points of contact when climbing structures like silos?
Are workers using established hand signals?
Are you minimizing cross-team exposure by coordinating work schedules for individuals residing together?
Are high touch surfaces (vehicles, offices, break spaces, etc.) disinfected or sanitized with a focus on the vehicle?
Are harvest team members trained with safety instructions and emergency procedures? Are these procedures updated with COVID-19 in mind?
Is there an ABC Fire Extinguisher in all equipment?
You and/or your employee(s) can download and print a pdf checklist to complete safety checks on your farm.  Keep the completed forms for follow-up, future reference and inspections.
DOWNLOAD PDF CHECKLIST
Disclaimer: The facts and information listed above are suggestions for your safety, but are in no way a comprehensive and exhaustive list of all actions needed to ensure your safety.
---