JANUARY 2023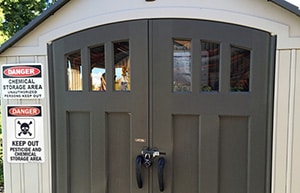 Safe storage of chemicals, like pesticides or disinfectants, on the farm, is critical to you, your family, workers, visitors, and livestock. Maintaining a proper chemical storage room or building reduces the risk of accidental exposure. Chemical incidents can be serious and life-threatening, so it is important to review your storage area for possible hazards and correct any issues.
Have you taken the proper steps to ensure the safety of your chemical storage area?
SAFETY CHECKLIST
The checklist below lists a few common hazards you can look for and fix to keep your workers and family safe.
Are chemicals stored in a room or building secured away from children, visitors, and livestock? All access points should be locked, with warning signs posted on doors and windows.

Is the storage area well-ventilated and lighted?

Is the storage area temperature controlled? Extreme temperatures can affect chemical potency, stability, and the integrity of containers.

Are chemicals safely stored on shelves or in cabinets? Do not store chemicals on the floor, window ledges, or balconies. Shelves must have a 1″ high lip to prevent the containers from falling off. Store hazardous chemicals below eye level to prevent accidental splashing to the eyes and face.

Are shelves level, stable, and secured to the wall?

Are chemicals stored in their original containers with the original labels? Chemicals should never be kept in food or drink containers.

Are chemical containers intact? Containers should be closed tightly. Routinely inspect chemicals for rusting containers, unreadable labels, leaks, or corrosion. Manage empty or damaged containers safely; see resources on page 2.

Is smoking prohibited in and around buildings where chemicals are stored and handled? Is a "no smoking sign" posted?

Are respirators, rubber gloves, aprons, chemical goggles, coveralls, and other chemical protective gear available?

Is the Poison Helpline number (1-800-222-1222) posted in a visible place?
You and/or your employee(s) can download and print a pdf checklist to complete safety checks on your farm.  Keep the completed forms for follow-up, future reference and inspections.
DOWNLOAD PDF CHECKLIST
Disclaimer: The facts and information listed above are suggestions for your safety, but are in no way a comprehensive and exhaustive list of all actions needed to ensure your safety.