AUGUST 2017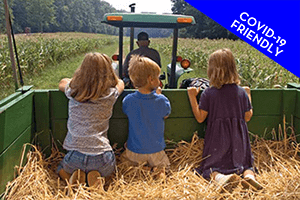 Allowing people to visit your farm provides a unique opportunity for you to tell the story of your farm and to teach visitors about agriculture.
Agritourism can also be a great way to increase farm income, but the additional risks and responsibilities must be considered.
SAFETY CHECKLIST
The checklist below lists a few ways you can be prepared for visitors on your farm and keep them safe:
Does the farm have three distinct areas: non-animal areas, animal areas, and entrance/exit transitions between? Are the number of people visiting animals kept to a minimum? If possible, create a way for people to view livestock from the safety of their vehicles.
Do visitors from different households stay at least 6 ft apart?
If food is available, do people eat and drink first, then visit the animals?
Does the farm have handwashing stations, including running water, soap, and paper towels?
Are the hand washing facilities accessible for children and those with disabilities and located conveniently next to both the animal areas and food?
Are signs visible throughout the venue reminding people to wash their hands and avoid hand-to-mouth activities?
Are the animals safely contained in pens?
Are visitors restricted from entering pens?
Have you restricted all physical contact of chicks, ducklings, reptiles, and calves?
Is there a plan in place to clean surfaces with disinfectant, especially frequently-touched surfaces, between visitors?
Is there a plan to remove sick animals from public contact?
Are all farm workers or hired staff trained in the national best practices for animal contact?
You and/or your employee(s) can download and print a pdf checklist to complete safety checks on your farm.  Keep the completed forms for follow-up, future reference and inspections.
DOWNLOAD PDF CHECKLIST
Disclaimer: The facts and information listed above are suggestions for your safety, but are in no way a comprehensive and exhaustive list of all actions needed to ensure your safety.