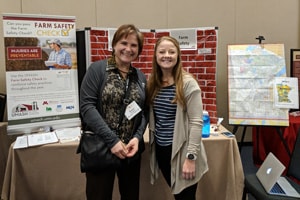 Megan Schossow and Carol Peterson from UMASH exhibited at the 100th Annual Meeting of the Minnesota Farm Bureau on November 16, 2018. The Centennial meeting was held at the DoubleTree by Hilton in Bloomington, Minnesota.
Farm Bureau members from the four corners of the state came together for sessions on political, environmental, and regulatory issues, a special session on the opioid epidemic, exhibits and a keynote speaker presentation by Chris Koch.  It was a good opportunity for UMASH to connect with farmers and farm families.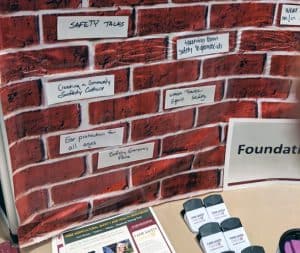 Megan and Carol encouraged attendees to think about safety on the farm and creating a culture of safety. We asked farmers and families to think about how they might do this and build a foundation for safety by placing a personalized brick on the wall. UMASH provided resources on the Farm Safety Check and highlighted some of the more recent topics including fatigue, stress and wellness.
Farm Bureau has been a valued partner with UMASH and we appreciated the opportunity to help them celebrate 100 years. We're looking forward to many more.
---
Pictured at top: Susan VonBank, Minnesota Department of Agriculture and Megan Schossow, Upper Midwest Agricultural Safety and Health Center (UMASH)