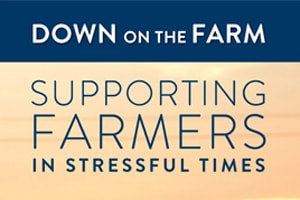 The first day of Down on the Farm workshops was held January 30, 2018, at Ridgewater College in Willmar, MN. Stress factors have been on the rise on farms, and Down on the Farm is a series of workshops for those working with farmers during tough times.
UMASH is a sponsor of the workshops which take place January – March 2018. The workshop was hosted by the Minnesota Department of Agriculture and included speakers Meg Moynihan of the MDA, Ted Matthews, the director of Rural Mental Health Outreach for Southern Minnesota and AgCentric Centers of Excellence at Minnesota State University, Randy Willis from the Minnesota Sheriffs' Association, and Michelle Page, the executive officer of the Farm Service Agency.
Graduate student Megan Schossow was one of about 50 people in attendance for the afternoon session. Attendees included bankers, state representatives, Farm Service Agency officers, Extension agents, consultants, and more. The workshops emphasized the importance of self-care, recognizing warning signs and symptoms of people in crisis, actions for escalated scenarios, and engaging the skills necessary to work with stressed farmers. The content prepared those working with farmers on how to share difficult news with respect and empathy. .
The workshop concluded with resource sharing. UMASH was able to share resources with attendees, while the group submitted contacts for future resource mapping.