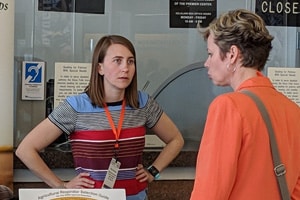 UMASH and the High Plains Intermountain Center for Agricultural Health & Safety (HICAHS) doubled up to provide safety and health information to dairy farmers, families and workers at the Central Plains Dairy Expo, March 27 – 28 , 2019 in Sioux Falls, SD. Carol Peterson from UMASH and Whitney Pennington – Outreach Coordinator from HICAHS – located at Colorado State University worked together to provide resources and education to attendees of the expo.
We focused our efforts on those topics central to dairy producers including positive animal handling, needlestick prevention and training for immigrant dairy workers. Additional issues covered by the 2 centers included flood clean up resources, respiratory protection after a flood, hearing protection and recognizing the signs and symptoms of stress.
Working together with HICAHS was a great method of engaging farmers on the issues that matter most to them. We doubled our efforts to provide research to practice resources to help make dairy farming safer and healthier across the central plains.