APRIL 2022
The 2022 Women's Agricultural Leadership Conference (WALC) was held on April 13, 2022, at the University of Minnesota Landscape Arboretum near Chaska, MN.  235 individuals participated at the event, including many young women who were part of FFA chapters across the state.
UMASH Representations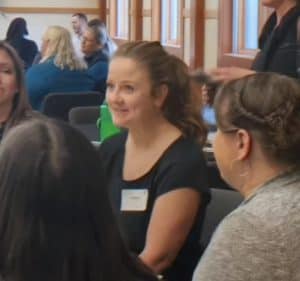 Megan Schossow, UMASH Director of Outreach & Center Coordinator, presented a roundtable session called Life is a (petting) Zoo: Agritourism Planning for Farms, Visitors, and Other Businesses. In this session, Megan discussed the importance of being prepared to keep employees and visitors safe from infectious disease when operating an agritourism event, particularly if animals are present on the farm.
Megan and Carol Peterson, UMASH Project Coordinator, also shared resources with attendees, including handwashing posters, SaferFACE's certification information, and the Agritourism Farm Safety Check.