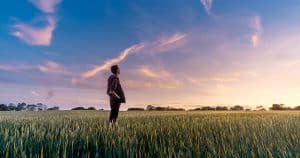 APRIL 2020
Dr. Jeff Bender, UMASH Center director, was part of an AgriSafe sponsored webinar on April 2, 2020. The webinar was aimed at assisting producers learn more about COVID-19, impacts on farming operations and strategies to assist farmers to stay safe, healthy and productive during this time. Dr. Bender spoke on "Keeping Producers/Ag Workers and their Families Safe during the COVID-19 Pandemic", and referred to the One Health approach to explain the interconnectedness of people, animals and the environment. One Health can help us understand how pandemics such as COVID-19 can and do occur.
Dr. Bender shared specific concerns related to agriculture and ideas to help farmers prepare including practicing biosecurity on your farm, washing hands often, strategies for social distancing, and understanding the added stress that COVID-19 can bring to existing stress you may be experiencing. He also highlighted some common questions and answers to help sort out the best information possible.
At UMASH we are committed to providing sound information to the agricultural community to help farmers make decisions for themselves, their families and their workers. Please visit our COVID-19 webpage for more resources to help you continue to stay healthy and safe during this time.
AGRISAFE RECORDED WEBINAR: What Ag Producers Need to Know About COVID-19
SARS-CoV-2 and COVID-19: identification, virology, and disease transmission
Keeping Producers/Ag Workers and their Families Safe during the COVID-19 Pandemic
Coronavirus (COVID-19) Response for the Food & Agribusiness Industry
What Ag Producers Need to Know About COVID19