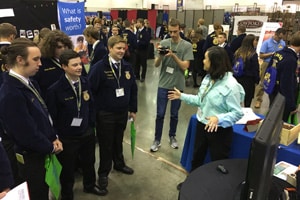 On October 30, 2018, Scott Heiberger and Melissa Ploeckelman headed down to Indianapolis, Indiana to represent the National Children's Center of Rural and Agricultural Health and Safety, the National Farm Medicine Center and, of course, UMASH at the 91st National FFA Convention and Expo.
Once arriving in Indy, the streets, buildings and billboards were decorated to the nines to welcome us saying, "Just One". After setting up the booth and a good night's rest we were ready for the FFA members.
Starting Wednesday students from all 50 states, Puerto Rico and the Virgin Islands came into the safety area to learn about how to stay safe while working on a farm and performing their Supervised Agricultural Experiences (SAE).
At our specific booth, each youth filled out a survey to tell us what type of Agritourism activities they have been involved in and where they get their safety training (if any) before an event. Then they got to come over to the next table and play jeopardy where they had to answer questions about
NCCRAH's Agricultural Youth Work Guidelines
.
Wednesday through Friday we connected with members, advisors and guests. It was a pleasure to meet so many positive and polite teens while having the opportunity to discuss safety with them.
We know 33 youth are injured daily on farms. Hopefully with this many conversations that number will go down, even a little bit!