National Farm Safety and Health Week 2014
Safety Counts: Protecting What Matters
September 21-27, 2014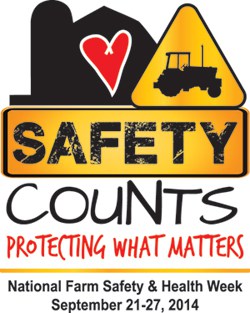 America's farmers provide us with an abundant food supply. But farmers are exposed to a unique, sometimes hazardous workplace. Agriculture continues to rank as one of the most dangerous occupations in North America and across the globe.
National Farm Safety and Health Week is September 21-27, 2014. This year's theme is "Safety Counts: Protecting What Matters".
The National Education Center for Agricultural Safety (NECAS), UMASH, and the US Agricultural Centers funded by the National Institute for Occupational Safety and Health (NIOSH) are spotlighting agricultural health and safety with a variety of resources for farm workers, their families, and everyone involved in agriculture.
SHARE ON SOCIAL MEDIA
RESOURCES
AGRISAFE WEBINARS
AgriSafe Network will be conducting daily webinars to inform professionals, as well as Agricultural producers on important agricultural occupational health and safety topics.