DECEMBER 2021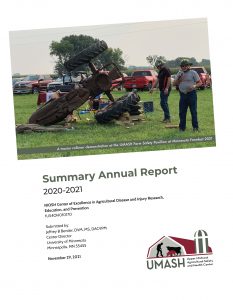 The annual report is an opportunity for UMASH to share with the public an overview of our center and showcase the research, outreach, engagement and evaluation projects from the past year. This compilation is also a good time for us to reflect future opportunities as well as past challenges and how they were met.
The 27-page report describes our efforts in creating, promoting, partnering and evaluating occupational safety and health for agricultural workers.
Take a moment to review what UMASH has been up to this year.  Please send questions, comments or suggestions to us at umash@umn.edu.