JULY 2023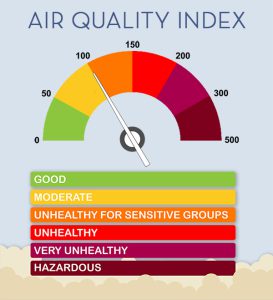 Lately, there has been much attention on the air quality in the Upper Midwest and nationwide. Wildfire smoke, which contains a mixture of air pollutants, has been causing frequent air quality alerts.
Air quality has a big impact on health. When breathing in wildfire smoke and other pollutants, some people may experience short-term physical effects like difficulty breathing, coughing, and fatigue. Over time, air pollution can worsen existing health conditions and make respiratory infections, heart disease, stroke, and lung cancer more likely.
Wildfire smoke and poor air quality affect farmers and farm workers.

Since agriculture is an outdoor job, it's important to be in the know about air quality, the dangers of working outside, and how to stay safe. UMASH has compiled a toolkit with many resources to help farmers know the key terms, hazards, and strategies to keep themselves safe and healthy in these dangerous environmental conditions.
VIEW RESOURCES:
KNOW YOUR TERMS: