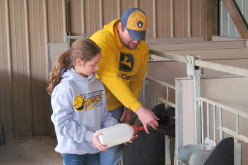 Anyone who does anything to help a child is a hero to me."

— Fred Rogers, television personality
FEBRUARY 2021
UMASH regularly emphasizes that agriculture is one of the most dangerous occupations in the US, according to the National Institute for Occupational Safety and Health. Farmers are at very high risk for fatal and nonfatal injuries; and farming is one of the few industries in which family members (who often share the work and live on the premises) are also at risk for fatal and nonfatal injuries. This message bears repeating for both adults and youth as during the past decade, more youth have died working in agriculture than all other industries combined.
UMASH works closely with the National Children's Center for Rural and Agricultural Health and Safety (NCCRAHS) who use applied research to create a number of resources to protect children on the farm and in agricultural sectors. NCCRAHS has recently produced three new safety resources to help parents and supervisors determine what jobs and tasks are appropriate and how to use proper safety protocols to ensure the wellbeing of youth involved.
You too can be a hero by helping a child stay safe. Check out the resources below.
---
Additional Resources: