NOVEMBER 2017
Monica has a clear understanding of both the challenge and the importance of helping workers be safe and healthy, and that overcoming any potential barriers requires appropriate engagement of the community.
---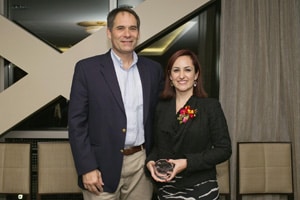 November is a month to reflect and be thankful. Bruce Alexander, Director of UMASH, puts into words how grateful we are as an organization to partner with exceptional collaborators such as Monica Cruz Zorrilla and the Consulate of Mexico in Saint Paul.
Monica's work with UMASH on health and safety for the new immigrant workforce in agriculture, earned her recognition with this year's Community Partners Collaboration Award. The recipients of these awards are individuals that contribute to the education, training, and guidance of the next generation of public health leaders at the University of Minnesota's School of Public Health.
Monica has helped the UMASH team to connect with the community and with the Consulate of Mexico. Through UMASH, she has also helped the Minnesota Milk Producers Association deliver cross-cultural, bilingual management training to help dairy producers meet the needs of this workforce.
The immigrant workforce is increasingly important to agriculture in Minnesota and the Upper Midwest. About half of all diaries in the United States hire immigrant workers that are predominantly Latino. These dairies produce 80 percent of the milk in the US, and these workers who produce our food hold some of the most dangerous jobs in the industry.
---
The culturally sensitive approach of your programs and the desire to empower our community with knowledge that is not only crucial in their day to day work, but that also allows them to grow in their sense of agency is invaluable to us.
– Monica Cruz, on the Consulate of Mexico's collaboration with UMASH
---
Dedicated to improving the health and well being of these workers, UMASH is grateful to work with excellent partners in the community such as Monica.