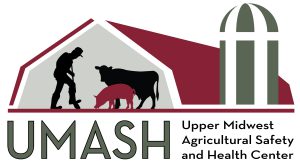 April 21, 2020
Contact: Megan Schossow,
Outreach Coordinator
schos021@umn.edu
612-625-8836
The Upper Midwest Agricultural Safety and Health Center (UMASH) is providing guidance on the prevention and spread of COVID-19 for farmers, ranchers and agricultural workers.
Farmers can use their independence and resilience to prevent the spread of COVID-19.

-Dr. Jeff Bender, DVM, MS, Director of UMASH
Precautions include eliminating exposure, finding ways to reduce person-to-person contact, establishing work guidelines, and making use of personal protective equipment (PPE). In addition, follow guidelines from CDC, state and local government, and health officials.
MODIFY OPERATIONS & CREATE AN EMERGENCY PLAN
Take extra precaution to avoid injury and illness as some hospitals are still overwhelmed with COVID-19 patients.
Review your operation's daily activities and seek ways to avoid person-to-person contact.
Postpone tasks that require personal interaction
Complete work activities remotely when possible
Stagger break and lunch times
Utilize electronic communications.
Create a plan that outlines how to move forward in the event of someone becoming ill and unable to function in their job.
RESPIRATORY PROTECTION
Utilize the masks/respirators commonly used to deal with agricultural dust, gases, etc., to help combat the spread of COVID-19 including:
N95/100 masks for dust
Half mask with cartridges for dust and gases (including pesticides)
In addition:
Make sure to care for respiratory protection in order to extend its use and fit test to ensure efficacy.
More details on performing agricultural work in absence of standard respiratory protection can be found here
Tape N95 valves closed to minimize the spread of particles and droplets
Wash hands before putting a mask on and after removing it
Anyone exposed to or infected with COVID-19 should wear a mask
HAND HYGIENE: ON AND OFF THE FARM
Everyone should wash their hands regularly. Basic hand washing steps include:
Wet your hands with clean, running water (warm or cold), turn off the tap, apply soap.
Lather your hands by rubbing them together with the soap. Lather the backs of your hands, between your fingers and under your nails.
Scrub your hands for at least 20 seconds (hum "Happy Birthday" song twice).
Rinse your hands well under clean, running water.
Dry your hands using a clean towel or air dry them.
When possible, use soap to wash your hands. If soap isn't available, use hand sanitizer with at least 60% alcohol. Wash/sanitize your hands often and avoid touching your face, mouth, eyes and nose.
DISINFECT SURFACES: ON AND OFF THE FARM
Clean and disinfect common spaces frequently, and at the end of the day. Touching contaminated surfaces has been shown to be a means to transmit COVID-19 To sanitize these surfaces, wear disposable gloves and use water in combination with cleaning and EPA-registered disinfecting agents or wipes. The active ingredient in bleach – sodium hypochlorite – is effective at killing the virus. Be sure to allow the bleach to work for a minimum of 10-15 minutes before wiping the surface with a clean cloth
WHEN TO USE DISPOSABLE GLOVES
Wear gloves when handling or transporting any item/equipment that is or is suspected to be contaminated.
Wear gloves when cleaning and disinfecting surfaces that are or are suspected to be contaminated.
Remove and discard gloves once cleaning or disinfecting is completed.
DO NOT wash or reuse the gloves.
Complete hand hygiene procedure after glove removal and disposal.
WHEN YOU RETURN HOME FROM WORK
To protect your family and your community after returning from work.
Leave personal protective equipment that has been used throughout the day at your worksite or in your truck.
Wash your hands before leaving work and use disinfectant on your hands before entering your home.
Remove your shoes and leave them outside or by the door.
If possible, change your clothes and shower before contacting anyone in your household.
HOW CAN YOU GET INFECTED WITH COVID-19?
Currently, medical providers know that COVID-19 can be spread through person-to-person contact or from touching a contaminated surface or object.
Virus spreads in person-to-person contact. Maintaining good social distance (about 6 feet) is important in preventing the spread of COVID-19.
WHAT IF I AM SICK?
Persons who are sick or have signs of illness (e.g. fever, coughing, sneezing, runny nose, tiredness, shortness of breath) should stay home and call a doctor or healthcare provider.
Additional resources, including recommendations for COVID-19 Infection Prevention for Agricultural Employers and Employees can be found at: umash.umn.edu/covid-19-resources
---
UMASH is one of eleven Centers of Excellence in Agricultural Disease and Injury Research, Education, and Prevention funded by the National Institute for Occupational Safety and Health (NIOSH) throughout the United States to improve the health, safety and wellbeing of agricultural workers and their families.