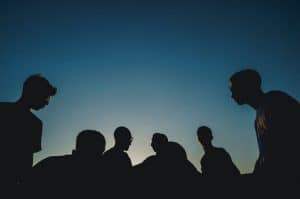 MAY 2020
Dr. Gus Brihn is a Veterinary Public Health and Preventive Medicine Resident with the Center for Animal Health and Food Safety at the University of Minnesota. Dr. Brihn is part of our UMASH team with the Promoting Worker Health and Safety for Immigrant Dairy Workers project and has been instrumental in providing insights of the veterinarian's role on dairy farms in the Upper Midwest.
In his current capacity as a Veterinary Public Health and Preventative Medicine Resident, Dr. Brihn collaborated with Dr. Jeff Bender, DVM and UMASH center director along with Dr. Conrad Spangler DVM at Riverview Dairy in a feature article with Hoard's Dairyman "Safety should be a team sport on dairies" (May 2020). The importance of training and implementing safety was highlighted as a role veterinarians can provide for their clients.
---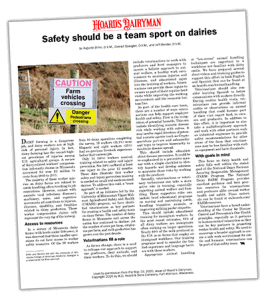 Safety Should be a Team Sport on Dairies
Dairy farming is a dangerous job, and dairy workers are at high risk of personal injury. In fact, dairy farming has the second highest prevalence of injuries among U.S. agricultural groups.
---
UMASH is committed to the health and safety of dairy farms and workers. Learn more about our free safety training for dairy farms with Spanish speaking workers by contacting Chela at vazquezc@umn.edu or call 612-625-4578