MAY 2019
The World's Largest Agricultural Safety Conference
June 24-27, Des Moines, IA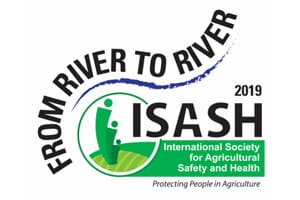 Registration is open for the 2019 International Society for Agricultural Safety and Health (ISASH) Annual Conference, June 24-27, at the Embassy Suites in downtown Des Moines, Iowa.
If you've attended the ISASH conference before, you know what a valuable experience it is. If not, please consider participating in the world's largest gathering of professionals dedicated to farm safety. Members include engineers, educators, insurers, physicians, nurses, veterinarians, communicators, anthropologists, business leaders and others.
This is the one conference to go to if you are passionate about farm safety. There is no better clearinghouse for research and safety intervention ideas.
The conference is being hosted by Iowa State University. Co-sponsors include John Deere, Iowa Farm Bureau and Agricultural Safety and Health Council of America. Early bird registration deadline is May 10.
This will be the first time since 2015 that the conference is being held in the Midwest.
Don't miss this opportunity! Visit the ISASH Conference website to learn more about:
UMASH will be well represented, with scientists and staff presenting on projects such as Rural Firefighters Delivering Agricultural Safety and Health (RF-DASH), Telling the Story, Tackling Stress in Agriculture through Partnerships, Building Resilient Agricultural Communities, Health and Safety of Agritourism Workers, and Animal Agriculture Exposures among Minnesota Residents with Zoonotic Enteric Infections.
Participants who choose to register for both the Child Agricultural Injury Prevention Workshop and the ISASH conference will save $50 on the combined registration fees. Both the workshop and conference will be held at Embassy Suites.
ISASH, incorporated in 1962 as the National Institute for Farm Safety, is dedicated to the professional development of individuals who can deliver prevention information to people working on farms, ranches, forests and the sea. Many safety initiatives in U.S. agriculture have involved members of ISASH, including: slow-moving vehicle emblem; emergency farm rescue; rollover protective structures; and assistive technologies for disabled farmers.
---
---