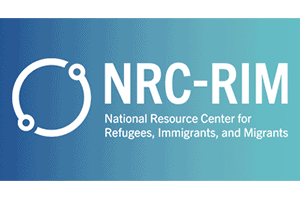 FEBRUARY 2021
The National Resource Center for Refugees, Immigrants and Migrants (NRC-RIM) was established to address disparities in RIM (refugee, immigrant and migrant) communities across the country that have been disproportionately affected by the COVID-19 pandemic. With over $5 million in support from the Centers for Disease Control and Prevention and the International Organization for Migration, NRC-RIM focuses on COVID-19 prevention, control, and mitigation.
"A core guiding principle of NRC-RIM is that the knowledge, attitudes and practices of the community are key, and that solutions should be developed in genuine partnership with affected communities."

– Co-PI Shailey Prasad, MD, professor of Family Medicine and Community Health and Center for Global Health and Social Responsibility (CGHSR) executive director
COVID-19 and its ensuing challenges have amplified the disproportionate inequities that marginalized populations face everyday, making it more important than ever to take action. Factors such as work environments make social distancing difficult while social and economic statuses make prevention practices such as quarantine harder. These factors plus poor access to healthcare contribute to an increase in social harm, infection rate and death among refugees, immigrants, and migrants (RIM), many of whom play a role in essential work, like agriculture.
With a goal of providing resources and strategies to confront these issues, NRC-RIM will work with state and local health departments to create and disseminate resources such as linguistically and culturally appropriate health communications and education, training materials for public health workers, and technical assistance upon request. In addition, the center will partner with community-based organizations to address worsening health disparities in RIM populations caused by the pandemic. Developing standards and systems to improve the health and wellbeing of RIM communities now and in the future.
Though it's based out of the University of Minnesota, the NRC-RIM has a national reach. For more information on the center and its goals, read their press release.
Explore the center's most accessed resources below:
Translated Materials Library of COVID related resources
Their Translated Materials Library offers thousands of fact sheets, posters, videos, audio recordings and other resources in English and more than 100 languages free of charge.
Community-Led Messaging for COVID-19 Contact Tracing
NRC-RIM partnered with IDEO.org to create this three-hour guide to building a custom communications campaign to engage your refugee, immigrant, and migrant communities in COVID-19 contact tracing efforts.
Vaccine Central
Their growing collection of resources supports vaccine efforts among refugee, immigrant, and migrant communities: checklists, guides, handbooks and more.