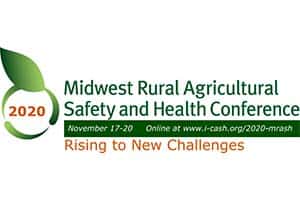 OCTOBER 2020
Conference season for many in agriculture comes around in the late fall and winter months. Moving these connections and presentations online is the definition of "Rising to New Challenges," which is the theme of this year's Midwest Rural Agricultural Safety and Health Conference (MRASH), taking place November 17-20, 2020, entirely online. The conference brings together safety and health researchers and professionals, health care providers, farmers, and rural advocates all committed to building a safer and healthier agriculture.
The conference begins with a focus on Pandemic Challenges and the implications on agriculture and rural communities. The keynote speaker is Dr. Ali S. Khan, MD, MPH, MBA, Dean of the College of Public Health at the University of Nebraska Medical Center (UNMC). Dr. Khan presentation is: Emerging Zoonotic Diseases Impacting Agriculture: What Comes After Covid 19?
The conference days will address:
November 18: Challenges Across the Lifespan
November 19: Challenges For Specific Audiences
November 20: The Challenge of Changing Behaviors
The conference agenda includes presentations, speaker panels, roundtable discussion, posters and virtual networking opportunities. The full conference agenda is available on the MRASH website.