NOVEMBER 2021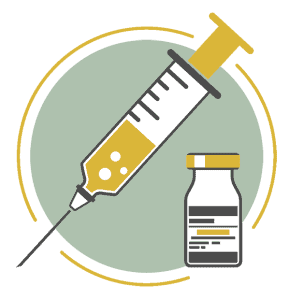 Livestock producers are familiar with vaccinating animals as part of an overall herd plan. Vaccinations are used to treat disease and are an important part of maintaining health and animal well being.  The ultimate success is dependent on how we handle and administer them to the animal.
In a recent article, Heidi Carroll from South Dakota State University Extension offers management tips for vaccines and injectables as part of a well designed herd plan.
Heidi discusses these key points:
Start with clean, maintained equipment.

Keep vaccines cool and out of direct sunlight.

Label everything and keep records.

Mix for less than 60 minutes.

Check label for dosage and route of administration.

Needle and product safety.
READ THE ARTICLE AT SDSU EXTENSION
NEEDLESTICK PREVENTION RESOURCES
It is also important to protect yourself from needlestick injuries. Farmers, ranchers, veterinarians and on site workers are susceptible to needlesticks on the job. These injuries can be serious and may require medical attention.  UMASH has developed the following needlestick prevention fact sheets and posters for farm workers, producers and veterinarians. These are high resolution pdfs – ready to print and hang!

VIDEOS
Preventing Needlestick Injuries
Proper Use on Dairy Farms
Updated: October 2018
Download mp4
Preventing Needlestick Injuries
Proper Use on Swine and Hog Farms
Updated: October 2018
Download mp4