JUNE 2020
How old is old?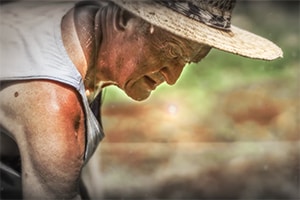 Depending on who you ask, you may get a number of answers. 45? 55? 65? Is it when you are eligible for senior discounts, safe driving courses or Social Security benefits? What does one mean by "old?"
The average age of farmers is 58, and many continue to work into later ages including 65 and older. Farming is a dangerous occupation at any age, and older farmers are more susceptible to age-related injuries. Older farmers can continue to be safe and productive. They just have to keep in mind age-related risks and modify expectations and tasks accordingly.

Over 3/4 of deaths in agriculture occur over the age of 45.
UMASH Community Forum: Aging on the Farm
In an effort to address this emerging issue, UMASH and the Center for Healthy Aging and Innovation are co-sponsoring a community forum Aging on the Farm to engage rural communities by asking "how can we support farmers to age in place safely in their homes?"
The forum is open to all and available online. We welcome all participants, including:
Farmers and farm families
Professionals in healthcare, occupational health, social work, public health, education, and agriculture
Community and government organizations
Agri-businesses: finance, legal, cooperatives and retail centers, trade associations
Anyone with an interest in aging in rural communities
---
VIDEO: Aging on the Farm