NOVEMBER 2019
UMASH is invested in helping farmers through these challenging times. We join many others in this effort to offer resources to assist farmers, families, workers and rural communities to manage the physical and mental impacts of the current farm economy.
As part of our commitment to this cause, we often highlight relevant initiatives and resources in the Upper Midwest. Dr. Sean Brotherson is a Professor and Extension Family Science Specialist at North Dakota State University (NDSU)    and was recently featured in an Ag Week – The mental     health crisis happening in our fields.
Dr. Brotherson likened the farm as a member of the family and noted "When that 'family member' is perceived to be at risk, that's very stressful. Farmers have a sense of a generational legacy that is very deep and meaningful and they are legitimately proud of that."
It is natural for farmers and ranchers to experience the effects of stress, anxiety and depression when the farm is at risk and Dr. Brotherson urges everyone to know the signs and symptoms including lack of sleep, digestive upset, headaches, backaches, irritability and withdrawing from social interactions.
"The farm becomes a member of the family. It's been in the family for generations and, in a sense, the farm is often the longest 'living member' of the family as it goes back generations"

– Sean Brotherson, NDSU, Extension Family Science Specialist.
Brotherson feels it is important to remind those in agriculture, "Among all your assets, your health is your most important asset as a farmer, rancher or agricultural worker. Therefore, managing and improving your health and safety ought to be your most important farm management priority."
NDSU Extension has a website targeted at Farm and Ranch Stress with a number of resources including hotlines, videos, fact sheets, podcasts, webinars and more to support the farm community.
12 Tools for Your Wellness Toolbox in Times of Farm Stress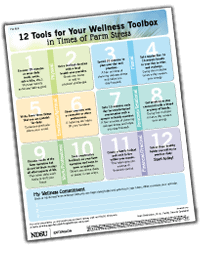 This tool offers common sense suggestions to help one take some initial steps in addressing the complicated effects of stress and to feel better.
---
Visit our Stress and Mental Health resources for additional information and resources in the Upper Midwest. We will continue to share information from our colleagues to help all of us support one another in this difficult time.
Additional Questions? Contact
Sean Brotherson, Ph.D.
Professor and Extension Family Science Specialist
North Dakota State University
Tel: 701.231.6143
sean.brotherson@ndsu.edu