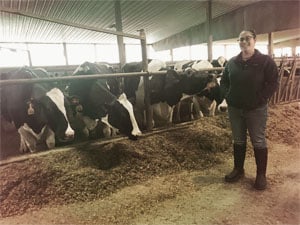 Hello! My name is Ana Contreras Smith.
I joined the UMASH team in July as the Dairy Safety Trainer for the Promoting Safety and Health for Immigrant Dairy Workers program. I have been working in agricultural industry mostly with dairy producers since graduating from the University of Minnesota. When I first started working in the industry I quickly realized that there was a big communication and training gap when it came to the Spanish-speaking employees. Quickly my career changed focusing on helping provide on farm training to employees of dairy farms. Knowing that working in agriculture possess many risks I am looking forward on continuing to provide on farm training focusing on Health and Safety for Immigrant workers.
As Dairy Safety Trainer, I will be providing the on farm trainings using that bilingual training curriculum called Seguridad en las Lecherías: Immigrant Dairy Worker Health and Safety. The curriculum consist of five modules focusing on some of the major Health and Safety concerns on farm. For example: working with Cattle, Machinery and Chemicals.