AUGUST 2019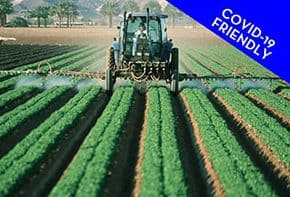 Working with pesticides is a regular occurrence for many individuals involved with agriculture. While working with pesticides may be inevitable, incidental exposure and injury does not have to be.
The Worker Protection Standard (WPS) requires that both agricultural employers and workers take active steps to prevent incidents from occurring by complying with minimum safety requirements.
SAFETY CHECKLIST
Have workers received WPS training in a way that the worker can understand?

Have workers received WPS training within the past 12 months?

Are there decontamination materials (water, soap, towels, etc.) in close proximity at all times?

Is required pesticide information displayed in a central location (WPS safety poster, health facilities, pesticide application lists, and Safety Data Sheets)?

Have the required personal protective equipment been provided and maintained for all pesticide handlers?

If a pesticide label calls for a respirator, have the handlers received a medical evaluation and respirator training and fit testing?

Has pesticide information (type of pesticide, location applied, and re-entry interval) been posted in the appropriate location to avoid incidental exposure?

Is signage posted outside of application zones to keep workers and pesticide handlers out of treated zones and away from application equipment?

 Is there an emergency transport procedure in place that all workers can utilize in case of incident or exposure?

Are all handlers and those permitted in areas restricted for entry above the age of 18?
You and/or your employee(s) can download and print a pdf checklist to complete safety checks on your farm.  Keep the completed forms for follow-up, future reference and inspections.
DOWNLOAD PDF CHECKLIST
---
Disclaimer: The facts and information provided are suggestions for your safety, but are in no way a comprehensive and exhaustive list of all actions needed to ensure your safety, and are not an endorsement of any products mentioned.
---