FEBRUARY 2019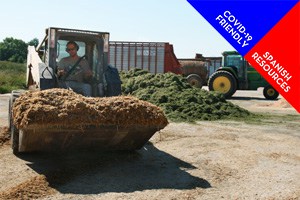 Skid steers are a common and critical piece of equipment on the farm. With moving buckets, blind spots, and varying center of balance, these machines can be dangerous to operators and bystanders despite the productivity benefits.
While they pose hazards like pinch points, run overs, and entrapment, safe operation is possible.
SAFETY CHECKLIST
Is a seatbelt and restraint bar used at all times during operation?
Is the machine inspected before use, ensuring handholds, safeguards, fittings, and hydraulic hoses are in good repair?
Has the machine been disinfected between operators? If so, how ​frequently​ and with ​what​?
Is there a standard operating procedure for the operator and additional workers when using the skid steer (that accounts for physical distancing)?
Does the operator enter with 3 contact points, the loader arms down, brakes set?

Is the machine up to date on maintenance?  Clean of debris, no smooth tires, bucket is hooked/locked, etc.

Is the machine free of passengers? Passengers, even small children, interfere with control, vision, and may bounce out.
Does all operation take place exclusively from within the cab?
Does the operator know the field of vision and blindspots?
Are bucket loads secure, within the limit, distributed evenly?
Is the operator trained on controls, safety, hazards and 16 years or older?
Do you have regular safety training or 'toolbox talks'
(virtually or with physical distancing) with operators and workers about hazards and safe work practices while operating or working around skid steers?
You and/or your employee(s) can download and print a pdf checklist to complete safety checks on your farm.  Keep the completed forms for follow-up, future reference and inspections.
DOWNLOAD PDF CHECKLIST
Disclaimer: The facts and information listed above are suggestions for your safety, but are in no way a comprehensive and exhaustive list of all actions needed to ensure your safety.
---