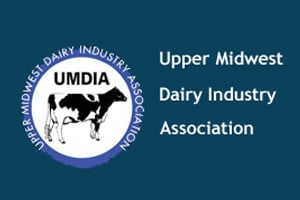 The 2019 Upper Midwest Dairy Industry Association was held April 16 and 17 in St. Cloud and Rochester, Minnesota respectively.
Jeff Bender, co director of the UMASH center was one of the event speakers and he focused his talk on calm, thoughtful working with cattle. Low stress or positive animal handling is a key initiative of UMASH. Calm handlers equal calm cows.
Dr. Bender stressed three main points when working with dairy cows:
Reduction of injuries with low stress animal handling techniques.
Training programs for immigrant health workers
Typical injuries of dairy workers
There was interest from the attendees on the Promoting Worker Safety and Health for Immigrant Dairy Workers – which is a free UMASH safety program for farms with Spanish speaking employees. This program covers the important tasks on dairy farms and correct practices to do the job safely.
These events were well attended with nearly 200 people participating. Other topics included on the agenda addressed automatic milking systems, an update from the Minnesota Department of Agriculture, the economic realities of the dairy industry and coping with farm and rural stress.(https://www.umdia.org/pdf/2019springmeetingbrochure.pdf)
The next time you find yourself becoming frustrated in the dairy barn, remember calm people equal calm animals. This is a winning combination for moving animals effectively.