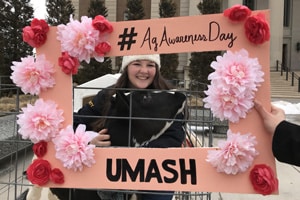 Llamas, calves, food, and prizes took to Northrop Plaza on a snowy April (yes, snow in April) day, all in the name of Agricultural Awareness. Ag Awareness Day brings agriculture to the University of Minnesota East Bank to share agriculture stories and education.
April 10, 2018 was the Annual Agricultural Awareness Day put on by the College of Food, Agricultural and Natural Resource Sciences' Agriculture Education, Communications and Marketing Club. Students, staff, and faculty were able to visit a number of exhibitors including UMASH, Minnesota Turkey Producers Association, the Minnesota Department of Agriculture, Minnesota Soybean, Southern Minnesota Beet Sugar Cooperative, and more.
UMASH was present with a spring-themed photo op, resources, and a rotating staff. Graduate students Ada Moreno and Megan Schossow, center coordinator Diane Kampa, and project specialist Chela Vazquez spent time with visitors and other exhibitors.  The team was able to talk about UMASH's mission in agriculture while highlighting resources and projects, like Safer FACES and Farm Safety Check.