National Agriculture Day 2015
Celebrating Safe and Healthy Ag Workers
March 18, 2015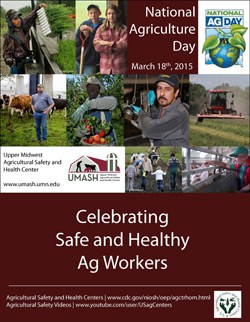 National Agriculture Day, March 18, spotlights American agriculture and serves as a reminder that agriculture is part of us all. UMASH, in conjunction with all the U.S. Agricultural Safety and Health Centers, is joining producers, agricultural associations, corporations, students and government organizations in marking this occasion.
"National Agriculture Day is an opportunity for us to acknowledge the importance of the people who provide our food," said Bruce Alexander, Director for the Upper Midwest Agricultural Safety and Health Center (UMASH) at the University of Minnesota. "We want to highlight the importance of the health and wellbeing of the people in agriculture is to our whole society."
The National Ag Day program encourages every American to:
Understand how food and fiber products are produced.
Appreciate the role agriculture plays in providing safe, abundant and affordable products.
Value the essential role of agriculture in maintaining a strong economy.
Acknowledge and consider career opportunities in the agriculture, food and fiber industry.
For more information on National Agriculture Day, go to www.agday.org
 RESOURCES