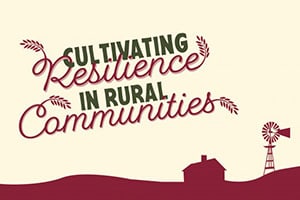 Farming is a challenging occupation. Whether it is low commodity prices, COVID-19 related effects, farm transitioning or any number of issues, farmers have and continue to face trying times.
All of this takes a physical and mental toll on farmers and families as well as rural communities overall. UMASH recognizes the importance of healthy and safe farmers, workers and families and has partnered with colleagues to bring awareness and offer resources to those in need. Cynthie Christensen from Oak Ridge Teletherapy and Carolyn Sheridan with the Ag Safety and Health Alliance have joined with UMASH to provide a toolkit for starting conversations about stress and mental health in a community setting.
We know that gathering together and talking about these issues is helpful in reminding each other that "you are not alone". Realizing that these challenges are industry wide can shift the thinking from "what is wrong with me?" to "what is wrong with modern agriculture?. -Cynthie Christensen, RN, BSN, LPCC
As a team we have developed the Cultivating Resilience in Rural Communities toolkit: A package of resources to help communities come together.
These resources include:
A short video on stress and mental health
A participant worksheet to accompany the video
A discussion leader guide and checklist which includes a "how to" approach to plan and lead the discussion
Marketing resources such as flyers to post, newsletter/bulletin inserts, and example social media posts that could be used with Facebook and Twitter
These free resources are designed for use by civic organizations, faith based affiliations, school counselors and others who see the impact on our agriculture communities. Visit our website to learn more and download the materials.
We can and should come together to reach out to those among us who need help. Let's get started today and once again – thank you for being a friend.
Please contact UMASH if you have questions or need more information on any of our resources.
---

Carolyn Sheridan, RN, BSN: Founder
The Ag Health and Safety Alliance™ is an international nonprofit organization, registered in the US and Canada, that focuses on health and safety for the next generation of agriculture.
---
Cynthie Christensen, RN, BSN, LPCC

Cynthie is a Licensed Professional Clinical Counselor with over 20 years of experience in behavioral health.