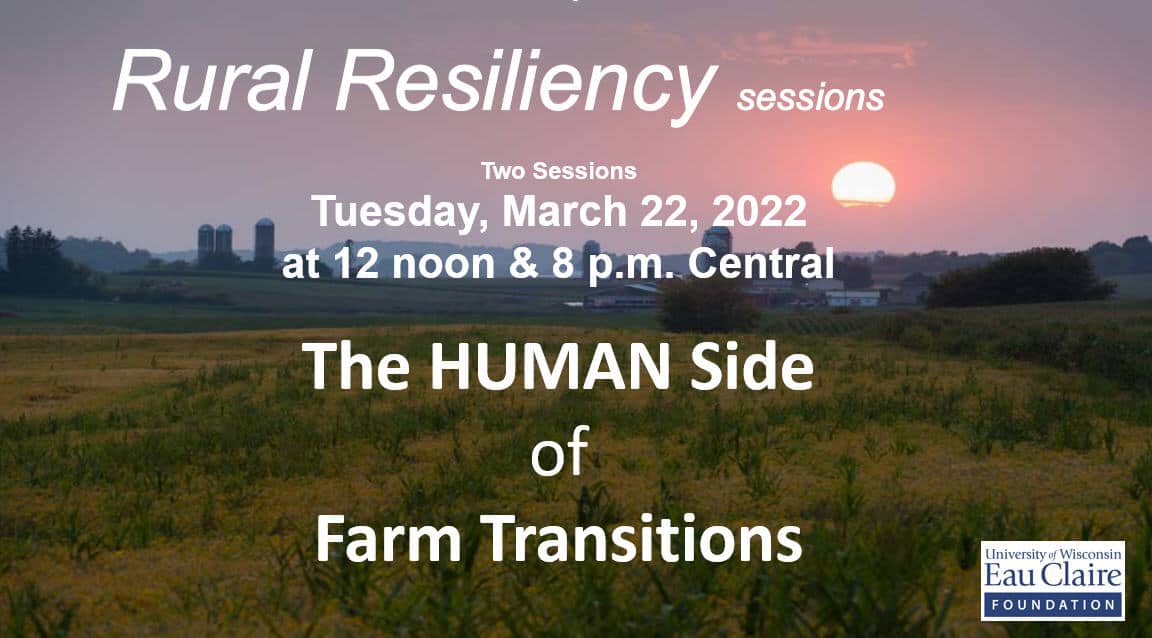 12:00pm - 8:00pm
FREE Rural Resiliency Sessions webinar series
Live webinar sessions that help build resiliency and empower economic well-being. Sessions will be recorded and will made available for viewing post webinar.

Two sessions:
The HUMAN Side of Farm Transitions
Registration link for The HUMAN Side of Farm Transitions on Mar 22, 2022 12:00 PM CDT

Registration link for The HUMAN Side of Farm Transitions on Mar 22, 2022 8:00 PM CDT

Tears…Stony Silence…Yelling. The "human side" of farm transitions is often just as, or more, complex as the legal and financial process. Generational differences, lack of effective communication, and family dynamics are three areas that will be explored during this webinar. Strategies will be shared on how to navigate relationship challenges in order to pass on the legacy of the family farm...and still be able to sit down together at a holiday dinner.

About our presenters:
Monica Kramer McConkey, Rural Mental Health Specialist and LPC has 25+ years of experience in the behavioral health field as a child and adolescent counselor, program supervisor, and administrator. Monica grew up on a farm and has an intimate understanding of the dynamics that contribute to farm stress and its impact on farm families. Monica is very much in touch with the agricultural way of life. Monica will be joined by a farmer who has personal transition experience along with professionals who have worked with farm families to develop transition plans.
Please look for our Resiliency Circles as a follow-up to this webinar where participants can participate in interactive anonymous conversations on the topic.
The Rural Resiliency Project uses an online platform where session participants remain anonymous as they participate in the session. Participants cannot see each other and cannot view each other's names. Nor are participant images or names recorded during the session.
Programming brought to you by The Rural Resiliency Project.