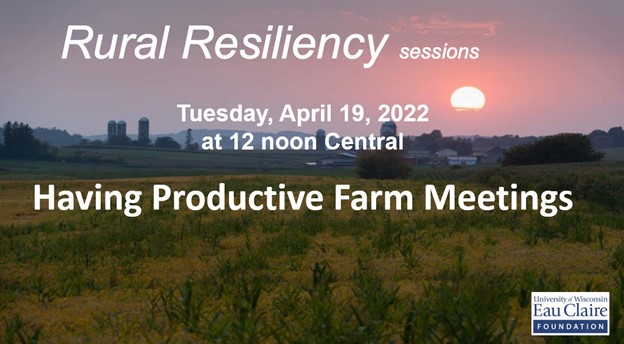 12:00pm
Having Productive Farm Meetings:
Sometimes it feels like farm meetings turn into one big yelling match, where nothing ever gets done. It doesn't have to be like that. In this session, we will learn how to have productive farm meetings. We'll get into the nitty-gritty of it all, covering all topics from how to set an agenda, to where you should sit at the table. Running a farm takes a village, it is important that village is all on the same page. Bringing together all members of the operation to have open, yet controlled conversation is the first step in making your day-to-day operation flow more smoothly and also gives you the time you need to make plans for the future.
Alma Jorgenson grew up on a beef and small grain farm in Big Stone County, Minnesota. Her passion for rural mental health started while she was working in her local grocery store, interacting with small town residents and farmers daily. Alma left Big Stone County to study psychology and geography at Gustavus Adolphus and worked on a family-owned dairy farm while in college. She knows the culture of farming, and the challenges it puts on families. She also knows the connections between policy, access, and meaningful care for struggling families.  Alma focuses on solution-oriented, positive interventions.
The Rural Resiliency Project uses an online platform where session participants remain anonymous as they participate in the session. Participants cannot see each other and cannot view each other's names. Nor are participant images or names recorded during the session.
Programming brought to you by The Rural Resiliency Project.