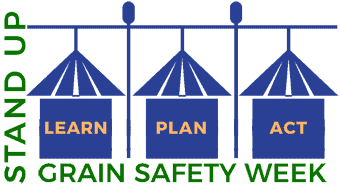 10:00am - 12:00pm
A week of daily educational events for anyone who handles grain and an opportunity for an industry-wide focus on and commitment to safety.
About this Event:
We have great things planned for each day of Stand Up 4 Grain Safety Week, which is a convenient, virtual and FREE event for anyone who handles grain to:
Assess! What are your current safety plans and goals? Are there areas you've always wanted to improve or change but haven't had the time or resources? This is your opportunity!
Attend! Invest a bit of time each day of the Stand Up to receive free, convenient, virtual content with tips and resources that you can quickly implement into your operation!
Apply! We know how hard it can be to carve time out of busy schedules to make lasting change BUT we've developed materials and resources to help make this easier! THIS is YOUR chance to make small changes for a big impact!
Starting at 10 AM CDT daily, Stand Up 4 Grain Safety Week offers a Kickoff Event on Monday and virtual training Tuesday-Friday, each day with a different focus and resources available!
Tentative Agenda (Register for one or all events):
Monday, March 29: Standup Kickoff Event - safety trainings, tips, demos and more!
Tuesday, March 30: Near Miss Reporting
Wednesday, March 31: Impact of Grain Quality on Safety
Thursday, April 1: Bin Safety
Friday, April 2: Emergency Action Plans