12:00pm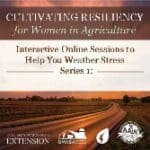 The farm economy of the last few years has been difficult and destructive for farm families.
The downturn doesn't just affect the financial and emotional well-being of farm and ranch owners; it impacts family members as well. Children and adolescents may be living in tense situations with little ability to make sense of what is going on around them.
Rural communities lack resources for youth experiencing family stress and/or crisis. It is critical that people who work with farm kids develop the knowledge and skills to understand, support, and intervene on their behalf in times of stress.
EDUCATIONAL OBJECTIVES
Participants will:
Learn about the complex and unique personal stressors common in farming today.
Learn about the ACEs (Adverse Childhood Experiences) study, typical developmental milestones in adolescence and the impact stress has on emotional and physical development.
Explore relationship-building techniques and interventions.
Learn about resources within their communities.
About our presenter: Monica Kramer McConkey, LPC has 25 years of experience in the behavioral health field as a child and adolescent counselor, program supervisor, and administrator. Monica grew up on a farm in Northwest Minnesota and has an intimate understanding of the dynamics that contribute to farm stress and its impact on farm families. Monica is very much in touch with the agricultural way of life.