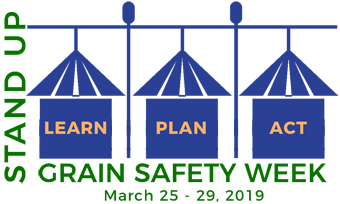 WEBSITE: www.standupevents.org/grain
JOIN THE NATIONAL SAFETY 
STAND-UP

 FOR GRAIN SAFETY WEEK

Grain handling and storage is key issue for the grain, feed and processing industries and producers. Increased storage capacities combined with larger, faster handling and automated equipment contribute to the safety and health hazards associated with grain bin entry, machine guarding, respiratory protection, falls, heat, combustible dust, struck-by and lockout/tagout.

The National Grain and Feed Association (NGFA), Occupational Safety and Health Administration (OSHA), the Grain Elevator and Processing Society, the American Feed Industry Association and the Grain Handling Safety Coalition are working together to raise awareness of industry and OSHA resources available to identify potential hazards at grain, feed and processing facilities through the Stand-Up for Grain Safety Week.

There are numerous OSHA- and industry-developed resources available to assist in preventing future incidents. Stand-Up for Grain Safety Week is a way of reaching out to employers and workers to get them involved in improving worker protection, reducing injuries, and preventing fatalities. 

Companies may participate by providing a focused activity and/or toolbox talk on topics such as engulfment/entrapment, slip, trip, and fall prevention, mechanical hazards, machine guarding, lock-out/tag-out, walk down, or any other prevention measures. These events should provide outreach and training information to workers about hazards, protective methods, and the company's safety policies, goals, and expectations. It is also an opportunity to listen to workers' and their safety concerns and ideas.