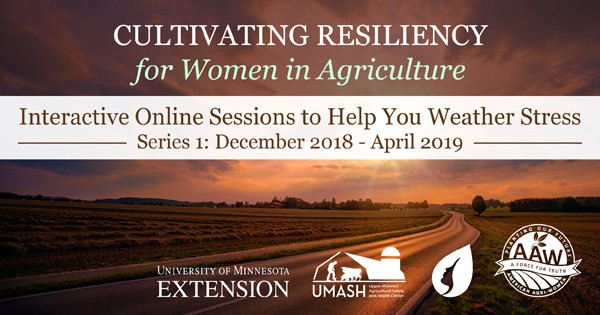 12:00CST - 1:30CST
WEBSITE: REGISTER ONLINE
Cultivating Resiliency for Women in Agriculture
In this session, Brenda Mack will provide a brief overview of how stress affects our health and well-being. Exploring self-care practices as an option to deal with worrying and stress will occur. Participants will learn about a practical tool to build and implement an individualized stress-reduction plan. The importance of connecting with others as part of self-care will also be addressed. Be prepared to ask questions or make comments and the presenter will respond.
The topic for discussion will last approximately 40- 45 minutes and then an interactive Q & A period will utilize the remaining time. All sessions in the series will be recorded and made available after the session for those who could not make the live session or for those who would like to listen again.
PRESENTER:
Brenda Mack is a behavioral health and human services consultant, trainer and presenter, and an Assistant Professor in the Social Work Department at Bemidji State University (BSU). Brenda is a Licensed Independent Clinical Social Worker through the Minnesota Board of Social Work. Her dad was a third-generation Red River Valley crop farmer and her mom was his partner in marriage for 50 years and helped run their agricultural operations. Brenda has many fond memories and examples of lessons learned from growing up in a farm family, so, it was no surprise when Brenda married Trent who is a fourth generation crop farmer from Crookston, MN.
Learn more about Cultivating Resiliency for Women in Agriculture