12:00pm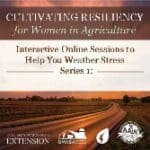 Lack of direction can increase stress on and off the farm. A survey of participants in our 2019 Cultivating Resiliency Questionnaire showed that farm transition was a top stressor.
As we start the fresh new year, in this webinar we will talk about strategies to develop more effective farm goals. Our discussion will be framed around the topic of farm transition, but the concepts can be applied to many situations.
About our presenter: Megan Roberts is a University of Minnesota Extension Educator in Ag Business Management. Her work focuses on farm transition, farm resiliency, and other risk management topics. She holds bachelor's and master's from the University of Minnesota and a doctorate from a joint program from Texas Tech and Texas A&M Universities. Her dissertation at Texas A&M focused on farmer emotional and financial wellbeing. Megan grew up working on her parents' dairy and continues to be actively engaged in farming with her husband's family farm.