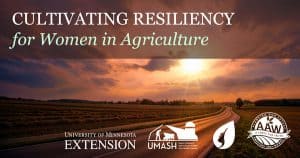 12:00pm
Join us for an opportunity to listen and share in our Cultivating Resiliency online group.
---
WHO?
This session will be lead by Shauna Reitmeier and Kristine Ranger
Shauna has over 20 years of experience in the behavioral healthcare and cognitive disabilities fields. She currently serves as the Chief Executive Officer of the Northwestern Mental Health Center, which serves a comprehensive array of behavioral healthcare services to adults, children and families across six (6) rural and frontier counties of Northwest Minnesota. Shauna grew up on a farm. 

Kristine was raised in NE MI and has worked in various segments of the agri-food industry including forestry, equine and livestock production, sales and service, direct marketing, and community food systems. She offers a wealth of knowledge about farm families, communication and conflict from her experiences as a Facilitator, Agri-science Instructor, HR Consultant, business coach, and consultant to farm families in succession planning.
WHAT?
Communication is a key factor in building and maintaining healthy farm/ranch family and agricultural business relationships. Inevitably there will be conflict and when avoided or addressed in a way that escalates the conflict it can lead to breakdowns in the relationships most important in having a successful family and/or business. Simultaneously unresolved conflict can lead to added stress, decreased health and it erodes personal resiliency to bounce back from other life stressors. This webinar will use real-life examples of conflicts within farming & ranching families and/or businesses to demonstrate how to put the tools and concepts from previous webinars into practice. You will be able to leave this webinar and begin to apply skills in promoting positive communication and navigate conflict more easily.
After registering, you will receive a confirmation email containing information about joining the webinar.
WHY?
At the end of this webinar, you will have skills, tools and strategies for navigating conflict in your everyday interactions.