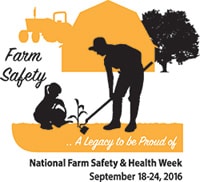 WEBSITE: http://umash.umn.edu/nfshw-2016/
National Education Center for Agricultural Safety (NECAS)
Agriculture is one of the most dangerous occupations in the United States.  The most recent data from the U.S. Department of Labor indicates that in 2013 farming accounted for 500 fatalities, or 23.2 deaths per 100,000 workers.  Many farm injuries and fatalities could be prevented through education.
Each year since 1944, the third week of September has been recognized as National Farm Safety & Health Week.  As we recognize National Farm Safety & Health Week this September, please join us in promoting safe and healthy practices on our farms and ranches across the U.S.
This year's theme is "Farm Safety: A Legacy to be Proud of"