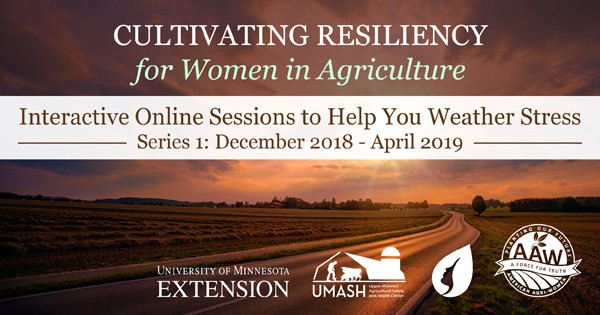 12:00CST - 1:30CST
WEBSITE: REGISTER ONLINE
Cultivating Resiliency for Women in Agriculture
In this session, Brenda Mack will focus on increasing joy and happiness in your farm life. Self-compassion, random acts of kindness and expressing gratitude are practical ideas that will be further explored to bolster positive feelings. Be prepared to ask questions or make comments and the presenter will respond.
The topic for discussion will last approximately 40- 45 minutes and then an interactive Q & A period will utilize the remaining time. All sessions in the series will be recorded and made available after the session for those who could not make the live session or for those who would like to listen again.
PRESENTER:
Brenda Mack is a behavioral health and human services consultant, trainer and presenter, and an Assistant Professor in the Social Work Department at Bemidji State University (BSU). Brenda is a Licensed Independent Clinical Social Worker through the Minnesota Board of Social Work. Her dad was a third-generation Red River Valley crop farmer and her mom was his partner in marriage for 50 years and helped run their agricultural operations. Brenda has many fond memories and examples of lessons learned from growing up in a farm family, so, it was no surprise when Brenda married Trent who is a fourth generation crop farmer from Crookston, MN. Brenda and Trent proudly support each other in all aspects of their lives. Brenda has a special place in her heart for women in agriculture who have a primary or secondary farming or ranching role. She walks the same path of ag-related ups and downs and wants to spark a local, state and national conversation about the impacts of stress, how to build resilience through connection, and implementing self-care strategies.
Learn more about Cultivating Resiliency for Women in Agriculture