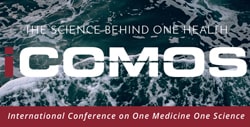 Since June 2016 you need to have a valid API key enabled to display Google maps, see plugin settings
LOCATION: Graduate Minneapolis
WEBSITE: ccaps.umn.edu/icomos-2018
615 Washington Avenue SE, Minneapolis, MN
The 3rd International Conference on One Medicine One Science (iCOMOS) will be held April 29-May 2 at the University of Minnesota, Twin Cities.  iCOMOS is a global forum on science and policy at the interface of environment, agriculture, and medicine.
This year's topic is:
Science and Policy at the Interface of Environment, Agriculture, and Medicine
Explore new ways to solve pressing health issues, facilitate interdisciplinary collaborations, and promote science's role in influencing public policy at the interface of humans, animals, and the environment.