12:00pm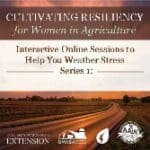 Do you love the holidays but find them challenging?  Do you become Scrooge and say Bah Humbug? 
While the holiday season can be filled with many blessings, for some it is one of the most challenging times of the year.  Whether the loss of a loved one, loss of income limiting your giving or navigating family dynamics, this webinar will give you ideas and tools to help take care of yourself, set boundaries, reap the blessings and find gratitude during the holiday seasons.
About our presenters: Shauna Reitmeier, MSW, LGSW, has over 20 years of experience in the behavioral healthcare and cognitive disabilities fields. She currently serves as the Chief Executive Officer of the Northwestern Mental Health Center, which serves a comprehensive array of behavioral healthcare services to adults, children and families across six (6) rural and frontier counties of Northwest Minnesota. Shauna grew up on a farm and is well-connected with rural communities. Monica Kramer McConkey, LPC has 25 years of experience in the behavioral health field as a child and adolescent counselor, program supervisor, and administrator. Monica grew up on a farm in Northwest Minnesota and has an intimate understanding of the dynamics that contribute to farm stress and its impact on farm families. Monica is very much in touch with the agricultural way of life.